Posted on December 22, 2015
Filed Under Uncategorized | Leave a Comment
[Zele, Gent, Merelbeke, St.Denijs-Westrem, BE] – The COBRA Emergency Management Support System (EMSS) was used earlier this year as support tool for the preparation and real time management of two large scale flood management exercises, organised by CEMAC on behalf of Belgian authorities.
The COBRA system was used to generate cartographic situation reports and a time-sliced scenario in the preparatory phase. River beds and historic true flood plains were imported from .shp files and .kml files (Google Maps/Earth). This combined import facility generates enormous flexibility in combining COBRA with existing cartographic data packs.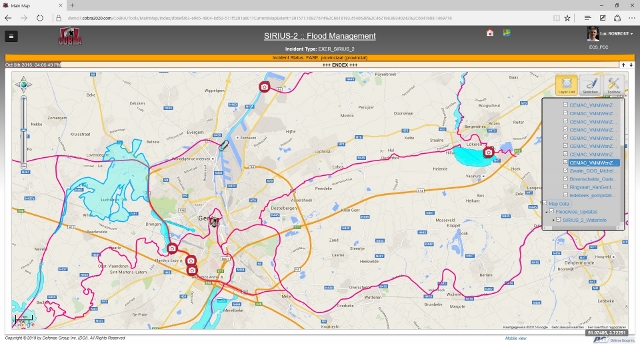 Blue surfaces indicating flood plains at various times
This functionality assisted the various scenario teams considerably in preparing their own part of the scenario and in integrating all elements into a comprehensive and multi-organisation MSEL (Master Sequence of Events List).
During the exercises COBRA was used as the co-ordination tool between the various teams of observers, evaluators and the central command & control hub "Hen House". Experts from CEMAC and from the client organisations used COBRA to communicate and transmit data and information by means of the multiple built-in tools: dynamic cartography, situation-drive logbooks, chat, document repository, formal SITREP tools, …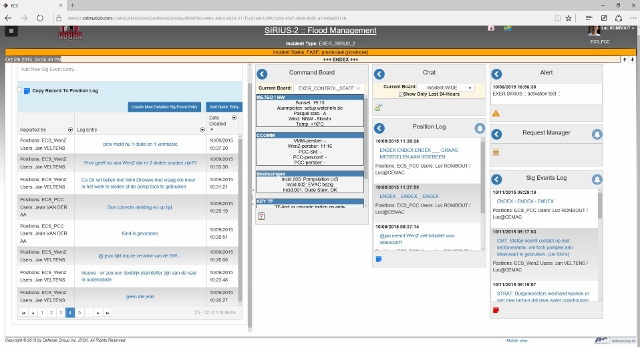 Liaison officers at four locations entered data into their position based logbooks which were collated and put on big screen displays in Hen House, thus permitting a very dynamic and realistic EXER management in response to the actual actions, reactions and decisions of the various participating crisis teams and this in a virtually real time manner.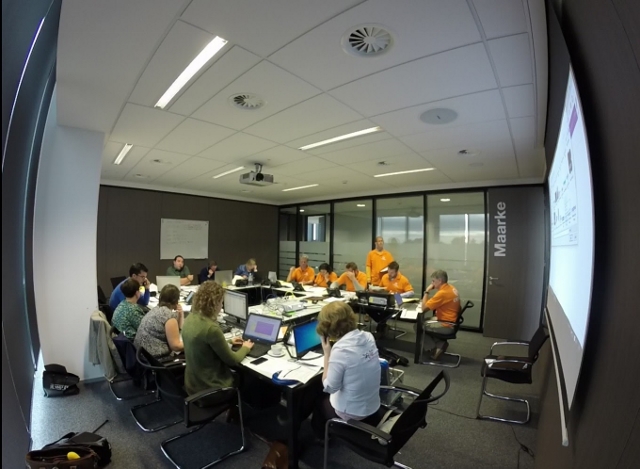 Exercise Control Centre "Hen House", with COBRA on big screen display (right hand)
COBRA is Emergency Management Support Software originally developed by DGI and now further developed and implemented throughout the world by CEMAC and DGI who work together in a strategic partnership.
More information on COBRA can be found at cobra2020.net and follow COBRA on twitter: @cobra2020net.
Posted on November 22, 2015
Filed Under Uncategorized | Comments Off on Learning Lessons – Communication en cas de menace
[BE, ..] – Le presse et les médias et les citoyens qui utilisent les médias sociaux ne sont en cas de menace terroriste pas seulement source d'information pour la population, mais pourront l'être aussi pour les auteurs potentiels d'un attentat.
avant l'attentat, pendant et après.
Le principe de "on a le droit de savoir" qui est un fondement d'une société démocratique et d'une communication non censurée, devra dans des cas pareils être poussé vers une position du "Need to know" (besoin de savoir).
Est-ce que la population générale et innocente a besoin de savoir où se trouvent les forces de l'ordre, que sont les résultats des actions judiciaires, les cibles possibles ? NON.

Est-ce qu'on doit alors partager ces informations ? La réponse est clairement non.
(Certes, à un certain moment quand il n'y a plus de menace concrète, cette information peut être communiquée.)
L'interdiction de communiquer ne peut se faire dans une société démocratique.
C'est pourquoi qu'on ne peut faire appel au bon sens et de milliers de communicateurs (professionnels et autres) pour tenter de limiter le plus possible la propagation d' «informations sensibles».  
Quelques conseils
Ne diffusez pas des informations sur la position et les ressources des forces de sécurité.

Ne diffusez pas des informations qui peuvent être utile pour les personnes ayant de mauvaises intentions (par exemple. "Personne au poste de garde" ou "J'ai réussi à entrer …»)

N'abusez pas les moyens de communication qui servent aussi à communiquer 'du sérieux'. (par ex. distribuer commentaires ridicules par un # -hashtag qui est utilisé pour la communication officielle).

N'utilisez pas les médias publics (tels que Twitter ou Facebook), pour signaler quelque chose de suspect que vous remarquez. Appelez les services d'urgence (100/112) directement et utilisez uniquement les médias sociaux s'il se produit un incident et d'autres citoyens doivent se protéger de toute urgence.

Ne postez pas des messages de communication qui remplacent ceux des autorités. Re-tweet ou FWD messages des autorités officielles.

Suivez de préférence les émissions des médias publics et suivez les voies officielles pour les médias sociaux.

N'utilisez pas de langage menaçant.

Soyez conscient que si vous communiquez que vous pouvez faire vous-même une cible.

Arrêtez la communication inutile s'il est important que les autorités peuvent communiquer. Prenez soin que les canaux de communication soient libres quand on en a besoin.

Ne communiquez pas (ou re-Tweet / FWD) des informations qui sont (encore) à vérifier (et donc non confirmées).

Une information correcte peut être enterré sous une masse de rumeurs et de fausses informations.

Rendez-vous compte  que vous restez responsable légalement de votre communication.
[tekst in het Nederlands: Nederlands ]
Posted on November 21, 2015
Filed Under Uncategorized | Comments Off on Learning Lessons – Communicatie in geval van dreiging
[BE,..] – In geval van terroristische dreiging zijn pers & media en de burgers die sociale media gebruiken niet alleen goede bronnen van informatie voor de bevolking, maar mogelijks ook voor de potentiële daders van aanslag,
voor een aanslag, tijdens een aanslag en erna.
Het principe van "men heeft het recht te weten" dat het grondbeginsel vormt van open en ongecensureerde nieuwsgaring en communicatie, dient in dergelijke gevallen geduwd te worden in de richting van "Need to know".
Heeft de onschuldige burger nood aan informatie over de locatie van onze veiligheidsdiensten, over resultaten van gerechtelijke acties, over kennis met betrekking tot mogelijke doelwitten? NEE.
"Moet" deze informatie dan ook gedeeld worden. Het antwoord is duidelijk nee.
(Ooit wel, vanzelfsprekend, maar niet op het ogenblik dat er van een acute dreiging sprake is.)
In een democratische samenleving is het strikt verbieden van communicatie onmogelijk. Men kan dus louter op het gezonde verstand en de inzichten van de duizenden communicatoren beroep doen om te proberen de verspreiding van 'gevoelige informatie' zo beperkt mogelijk te houden.
Enkele tips
Verspreid geen informatie over de positie en middelen van de veiligheidsdiensten.

Verspreid geen enkele informatie die nuttig kan zijn voor personen met kwade bedoelingen (bv. "geen bewaking te bespeuren" of "ik ben binnen geraakt" …)

Misbruik communicatiekanalen niet (bv. belachelijke commentaren verspreiden via een #-hastag die voor ernstige communicatie gebruikt wordt).

Gebruik geen publieke media (zoals twitter of facebook) om te berichten over een dreiging die u vaststelt. Contacteer de interventiediensten (100/112) rechtstreeks en gebruik alleen social media indien er zich een incident voordoet en andere burgers zich dringend moeten beschermen.

Maak geen eigen communicatieberichten ter vervanging van die van de overheid. Re-tweet of fwd berichten van de officiële overheden.

Volg bij voorkeur de openbare omroepen en volg de officiële overheidskanalen voor social media.

Uit geen bedreigende taal.

Denk na voor u communiceert om uzelf geen doelwit te maken.

Stop met onnodige communicatie indien het belangrijk is dat de overheden kunnen communiceren. Hou op dat ogenblik communicatiekanalen vrij.

Communiceer niet (zelf of re-tweet/fwd) informatie die (nog) niet bevestigd is. Correcte informatie kan bedolven worden onder een massa geruchten en foutieve informatie.

Besef dat u voor uw communicatie ook (straf)rechterlijk verantwoordelijk blijft.
[ texte en français: français ]
Posted on November 18, 2015
Filed Under Uncategorized | Comments Off on Learning Lessons – Watch the terrorists … (2/…)
[Paris, Hannover, Brussels, …] – So to set your professional minds working … some questions, points of reflection … feel free to comment via @cemacorg (twitter)…
My lips are sealed
[Gemany, Hannover] – Bundesländer interior minister Thomas de Maizière said : "Giving a detailed answer to the questions related to the security threat would only worry the population. [so he did not answer any questions]" during the Press Conference after the evacuation of the Hannover soccer stadium.
His way of (non-)communication created a avalanche of frustrated and angry reactions by population and media.
How do you communicate in these cases ?
Please please turn off the camera
[France / Belgium, Paris, Molenbeek] – During a raid Belgian federal police had to ask national media to "turn off the cameras" since they were broadcasting live the positioning of special unit police teams during a raid. In Paris the police and military establish a well defined WIDE perimeter with very few opportunities for the media to report unwanted scenes.
What is the relevance of real time planning tools (e.g. an EMSS) to well define the operations zone ?
What about agreements with press & media ?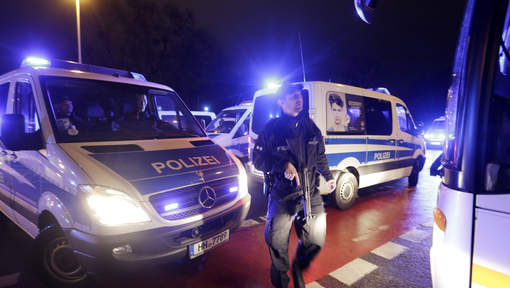 Please park your vehicle here
To the professional trained eye a lot of things are to be seen … even the minute "details" overlooked by the untrained eye.
One of those examples is how emergency vehicles park in the operations zone. We always learn emergency services that whilst organising a vehicle parking: vehicles should be positioned in a way that they can drive away in an emergency with only ONE movement (not reversing, turning, turning again, …) and that they should be present in an operations zone based on actual operational necessity.
Have a look at the hundreds of images on the internet … and make an assessment.
Is your emergency plan well developed enough to have an orderly vehicle parking in place from the beginning of operations ?
Posted on November 18, 2015
Filed Under Uncategorized | Comments Off on Learning Lessons – Watch the terrorists … (1/…)
[Paris, Hannover, Brussels, …] – Recent security emergency operations have been extensively covered by national and international media.
For the general public that coverage provides news and sensational images. "Stuff to talk about".
For us professionals, what we can combine as open source data or information into a Common Operational Picture (COP) provides real time case learning material. The professional eye will see interesting operational concepts abroad and will see flaws in operations and crisis communication.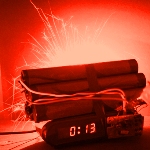 Building Situational Awareness (SA) / Common Operational Picture (COP)
Establishing what is going on and sharing that information is key in functional correct operational management of security threats (or any other emergency situation).
The first element is the construction of 'Situational Awareness': the perception of environmental elements with respect to time or space, the comprehension of their meaning, and the projection of their status after some variable has changed, such as time, or some other variable, such as a predetermined event.
Construction Situational Awareness is something that a person will do, it is also something a group, organisation shall do.
It involves making an objective validated image of what is going on and what might happen next, based on the well know information management process.
This information management process involves:
Collecting raw unvalidated data
Analysing and verifying that data to filter out unreliable data and establish a base of reliable data
Combining and integrating data into a meaningful information concept
Disseminating (distributing) these information package for use as framework for decision making
1. Establishing SA under stress and uncertainty is a rather difficult process and is hindered by the upcoming modern and social media, since they multiply the number of raw data sources and at the same provide lots more unrealiable data, hence making the analysis process much more difficult.
2. Establishing SA in case of 'Intentional Acts' (terrorism, sabotage, …) is also more difficult, because the natural flow of data might have been disturbed intentionally to cripple the reactive security operations.  Prediction the risk of future explosions during an industrial fire is in general much easier than predicting future explosions after an isolated explosion of a bomb occured in a town.
3. Establishing SA in case of security related operations is also more difficult because data and information sharing will be done on a "need to know" basis, leaving always a number of operational players out in the cold, because relevant information for them cannot be communicated. E.g. how can a local fire brigade provide support in case of a raid on a bomb maker factory if they are not in the loop of operational planning information.
The second element in the continual process involves building and sharing a "Common Operational Picture" (COP) – sometimes considered to be merely a (geographic) 'map', but it is in fact much more. COP involves making a view "à la tête du client": showing what needs to be shown to a specific person or role, in the optimal format and with a system behind to keep that 'picture' current, in essence to make it a motion picture instead of a still picture.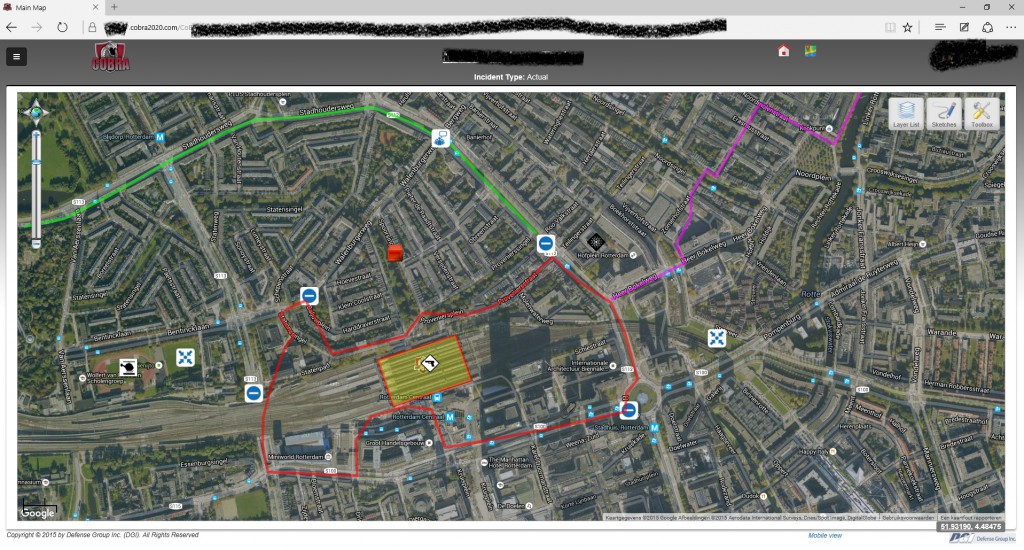 COP map using the COBRA Emergency Management Support System (EMSS). Simulated tracking of the security incident at the Thalys train in Rotterdam: operational zone in yellow, exclusion perimeters in red, security checkpoints at blue circle points, emergency services ingress routes in green, population evacuation routes in purple.

But COP is more … weather info, what crisis communication has been doen, weapon status for response teams, …
(Maps courtesy of: COBRA EMSS) COBRA is supplied by CEMAC-DGI through a strategic partnership. Contact us for more information about COBRA of go directly to cobra2020.net .
Posted on September 30, 2015
Filed Under Reader's Digest, Uncategorized | Comments Off on Help! Een crisis
[Zele, BE] – Op 29 september 2015 werd te Gent het boek "Help! Een crisis" van de pen van Bart Bruelemans, Bert Brugghemans en Ilse Van Mechelen voorgesteld.
Een dag later hebben we het gelezen, eigenlijk deze nacht al. Omdat het verschijnen van een boek over crisisbeheer in België een dergelijk zeldzaam fenomeen is, dat de intellectuele nieuwsgierigheid onmiddellijk geprikkeld wordt.
Omwille van de inhoud, maar ook en misschien nog meer omwille van de verwachting en hoop dat vakliteratuur zal bijdragen tot de ontwikkeling van 'onze stiel' in België.
De speeches van twee provinciegouverneurs en het aansluitende paneldebat met diezelfde gouverneurs, academici en vooral ook het praktijkveld werden gekenmerkt door een aantal markante uitspraken … "Niemand wist hoe het aan te pakken, zelfs nu nog niet.", "In het buitenland had men die ervaring wel …", "… dan moeten we onze professionele ethiek maar eens in vraag stellen" en "natuurlijk staat men in het buitenland veel verder".
Consensus op de hoofdlijnen dat een verdere en versnelde professionalisering van crisisbeheer aangewezen is en dat het zich aanmeten van een vorm van universele methodiek een belangrijk instrument daarbij kan zijn.
In het boek "Help! Een crisis" wordt een dergelijke methodiek voorgesteld. Het is eigenlijk niet één methodiek, maar wel een bloemlezing van technieken, best practices en wetenschappelijke inzichten die toepasbaar zijn op het multi-spectrale vakgebied van crisisbeheer: van operationeel beheer op het terrein tot geïntegreerde crisiscommunicatie.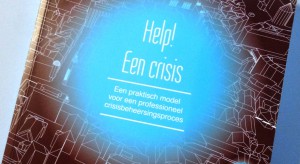 "Help! Een crisis" postuleert niet hét universele model voor alle stadia en aspecten van crisisbeheer. Het heeft ook die pretentie niet en men dient het boek niet met dat in het achterhoofd te lezen.
Het boek kan vooral een eye opener zijn voor diegenen die crisisbeheer nog altijd meer als een kunst of een je-voelt-het-wel-aan dan als een kunde zien. De talrijke verwijzingen naar wetenschappelijke modellen en illustraties uit het buitenland of van Belgische reële noodsituaties vormen daarbij een handige kapstok om verder te gaan zoeken … om zelf bepaalde thema's uit te diepen en na te denken over hun toepasbaarheid ervan.
"Help! Een crisis" was voor ons nachtliteratuur, uit nieuwsgierigheid en tijdsgebrek overdag.
Maar misschien is dit wel een goede insteek. Het is geen "Shades of Grey" nachtliteratuur, maar past misschien wel op het nachtkastje. Na een dag in business as usual kan een hoofdstuk in "Help! Een crisis" een welkom afstand nemen van de gewone praktijk betekenen. Misschien leest u wel een hoofdstuk en gaat u mijmerend over wat u gelezen heeft en hoe u daarmee aan de slag kan, de nacht in.
U heeft het al begrepen. "Help! Een crisis" is een waardevolle bijdrage tot het vakgebied omdat het op een heldere beknopte en voor iedereen vatbare wijze inzichten aanbrengt die voor velen nog als onverwacht nieuw zullen ervaren worden. De boodschap van de auteurs, die we volmondig ondersteunen, is dan ook niet alleen een modernisering van middelen door te voeren, maar ook in te zetten op de modernisering van inzichten en werkpraktijken.
Het verschijnen van dit boek deed ons ook even meer dan een decennium teruggaan. In 2000 verscheen immers als pennevrucht van CEMAC de (wellicht allereerste ooit) Praktische Handleiding Rampenmanagement; opgesteld in opdracht van de Provincie Oost-Vlaanderen en wat toen nog het Ministerie van Binnenlandse Zaken heette.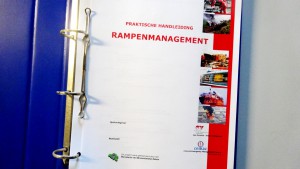 Toen stonden we nog veel meer aan de wieg en dienden we begrippen zoals "CP-OPS", "multi-disciplinair" en "zonering" uit te leggen. Het gisteren voorgestelde boek gaat gelukkig veel verder.
Laat het een inspiratie wezen voor noodplanambtenaren, leden van de interventiediensten, bestuurlijke overheden en een nieuwe stap vormen in de professionalisering van het crisisbeheer in België – waar ook wij constant proberen toe bij te dragen.
"Help! Een crisis" is verschenen bij de Belgische uitgeverij die Keure.
Posted on September 30, 2015
Filed Under Newswire | Comments Off on COBRA as COP/SA tool in international EXER
[Belgium, Ukraine] – The COBRA EMSS (Emergency Management Support System) was used 20-24 September as the multi-national / multi-agency Common Operational Picture (COP) – Situational Awareness (SA) tool during an international disaster response exercise with focus on channelling information related to the medical operations.
The key component of the EXER was the deployment of advanced medical posts with T-MED (telemedicine) infrastructure providing uplink real time information about casualty medical conditions to remotely based medical experts. The aim of this was to be able to 'project' medical capability into a disaster area without the actual move of manpower (medical A&E, traumatology, … specialists) and to support local medical responders at various echelons with remote diagnostics and treatment supervision.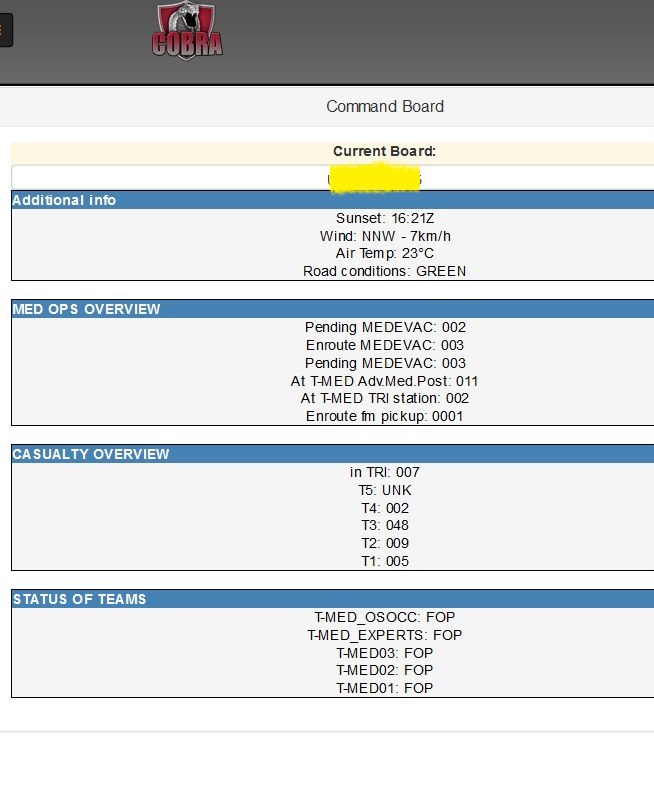 The involvement of COBRA was aimed at providing the OSOCC (On-Scene Operational Co-ordination Centre), various EOC's, logistics managers and other with a COP in the form of shared cartography, log books, tracking of assets, management of information, resource requests and synoptic reporting.
As such user positions were created for the various components in the overall and medical ICS (Incident Command System), based on the actual net-centric concept of organisation that had been put in place.
With the standard software components and the activation of the HICS (Hospital ICS, specifically for medical operations), COBRA succeeded in providing an easily accessible, flexible, zero-setup-time robust environment for information sharing.
The results of the test will be presented during an international conference in January 2016.
(COBRA is a secure EMSS developed by DGI (US) in a strategic partnership with CEMAC (BE).
more information can be found at: www.cobra2020.net – on twitter: @cobra2020net)
Posted on May 27, 2015
Filed Under Uncategorized | Comments Off on 2015 Symposium "Rampenmanagement" – 19 June 2015
[Jabbeke, BE] – ICM West-Vlaanderen organises in collaboration with the Ministry of the Interior and the Ministry of Public Health from Belgium a new edition of the "Symposium Rampenmanagement", with this year as central theme 'Learning from Disasters: Analysing Emergency Response to Disasters'.
The symposium will be held on Friday 19 June 2015 in Jabbeke.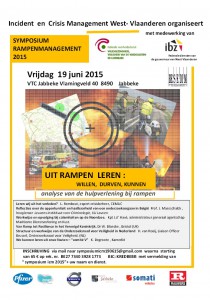 The symposium has speakers from:
KULeuven (University of Leuven)
Agentschap Maritieme Dienstverlening en Kust (Maritime Authorities)
NHS (National Health Service)
Onderzoeksraad voor Veiligheid (Dutch Safety Investigation Board)
Belgische Kamer (Belgian Parliament) …
and CEMAC.
Click on the folder image to enlarge to find out the details to register.
De presentatie van Luc Rombout over "Leren" kan gedownload worden door op de link [CEMAC_SymposiumLeren_19jun2015_DUT_Rev00] te klikken.

Gelieve bij verwijzingen of gebruik van delen van de presentatie steeds een bronverwijzing aan te brengen.
keep looking »