Posted on August 27, 2014
Filed Under Uncategorized | Comments Off
[Brugge, Zele] – CEMAC en Vanden Broele Uitgevers hebben de handen in elkaar geslagen om aan lokale openbare besturen, verantwoordelijken van OCMW's, interventiediensten, veiligheidscellen en dergelijke meer een seminarie aan te bieden over de problematiek van Elektriciteitsschaarste en stroomonderbrekingen.
Luc Rombout (CEMAC) en Yves d'Eer (noodplanningsambtenaar van de gemeente Beveren) zullen in een aantal opeenvolgende modules dieper ingaan op:
de basisproblematiek en het afschakelplan;
internationale en nationale case studies;
de processen die op gemeentelijk vlak gevolgen kunnen ondervinden van een stroomonderbreking;
de aanpak in de gemeente Beveren;
strategie en praktijk voor de eigen impactanalyse en noodplanning.
Het eerste seminarie heeft plaats op 23 september te Beveren. Ook andere steden en provincies komen aan bod.
Meer informatie en inschrijving via de digitale folder op de website van Uitgeverij Vanden Broele: Digitale Folder
CEMAC heeft sinds 2006 een expertise opgebouwd rond de links tussen noodplanning, crisisbeheer en elektriciteit door projecten van noodplanning, vorming en het organiseren van oefeningen voor de belangrijkste spelers in de elektriciteits"industrie".
Posted on August 26, 2014
Filed Under Uncategorized | Comments Off
[Brussel, Zele] – (DUTCH)
Naar aanleiding van groeiende bezorgdheid over mogelijke lokale elektriciteitsafschakelingen – de zogenaamde "Brownouts" – heeft werkgeversorganisatie VOKA een enquête gehouden bij ondernemers om onder meer te peilen naar de bezorgdheid en voorbereiding op deze stroom"pannes".
De media blokletterde als een van de voornaamste resultaten dat "7 op de 10″ ondernemers geen dekking heeft voor stroomonderbrekingen in de bedrijfsverzekeringspolis.
Twee commentaren terzake zijn relevant:
 Is een brownout een verzekerbare gebeurtenis?
Volgens het Belgische Handelsrecht is een verzekerbaar risico: "Een onzekere en mogelijke gebeurtenis waarvan de verwezenlijking buiten de wil van de verzekeringnemer, de verzekerde of de begunstigde valt".
Uit de definitie van Brownout blijkt dat het gewenste, bewuste en naar impact voorzienbare gebeurtenissen zijn. Immers om een algemene stroompanne te voorkomen, gaan netbeheerders en overheid besluiten om op een bepaald tijstip, een bepaalde geografische zone bewust en gewenst af te schakelen van toegang tot het elektriciteitsnet.
In de juridische omschrijving van "onzekere gebeurtenis", kan die onzekerheid betekenen "dat het ontstaan onzeker is" of "dat het tijdstip onzeker is".
De factor onzekerheid speelt dus bijvoorbeeld heel duidelijk wanneer er plots een windhoos opsteekt die op een onvoorspelbare wijze schade aanricht.
Maar is dit nog zo indien een mogelijke gebeurtenis weken, zelfs maanden of voorhand aangegeven wordt en de mogelijke schadelijder dus ruimschoots de tijd heeft om na te denken over inperkingsmaatregelen en andere technieken om schade te beperken of zelfs te voorkomen?
En waar is dan nog de onzekerheid indien de overheid of netbeheerder(s) uren of misschien zelfs een dag of meer op voorhand zouden communiceren dat er een afschakeling in een bepaalde geografische zone zal optreden?
Met andere woorden, hoe zullen de verzekeraars zich positioneren indien nu ineens iedereen een verzekering wil tegen stroompanne, die technische gezien niet de "onvoorspelbare" stroompanne is waar de verzekering voor voorzien is?
Waar zullen uiteindelijk de verantwoordelijkheden liggen van de elektriciteitsproducten, netbeheerder(s), overheden?
Het afschakelplan is gebaseerd op het moeten toepassen van afschakelingen als gevolg van Force Majeure – "overmacht". Maar is deze Force Majeure wel eigenlijk overmacht indien een wijziging van bijvoorbeeld het regelgevend kader waardoor zonder de klassieke vergunningsweg om spoedaanpassingen aan de infrastructuur te kunnen doen, er geen noodsituatie zou ontstaan?
Ongetwijfeld voer voor juristen, wetsdeskundigen en universitaire vakgroepen – mocht het zo ver komen. In alle geval … het zich verzekeren door een simpele handtekening te zetten zou wel eens té kort door de bocht kunnen zijn.
Verzekering op zich is geen daad van deugdelijk beleid
Naast het vooral bureaucratisch element uit voorgaande paragraaf, is het ook vanuit de leer en de praktijk van het risicobeheer ('Risk Management') onwijs om zich te baseren op een verzekering om een noodsituatie of schadegeval door te komen.
In de vakliteratuur van  het Risk Management gebruikt men heel vaak het beginsel van de verdedigingslijnen of 'Lines of Defence'.
Het principe is duidelijk: men probeert zo veel mogelijk incidenten en schade te voorkomen door zo dicht mogelijk bij het ontwerp of de productie van een product of dienst in te grijpen. Men maakt iets intrinsiek veilig of robuust (het kan een noodsituatie doorstaan) in het ontwerp, men bouwt iets veilig, de mensen die het moeten bouwen zijn gevormd en dergelijke meer.
Door deze lagen op te bouwen, voorkomt men dat men met productieinfrastructuur zit die onveilig is (onveilige chemische installatie, onveilige machines, …) en dat men producten maakt die op zich al onveilig zijn (onveilige auto's, speelgoed, chemische producten, …).
Het stapelen van al deze lagen van maatregelen om aan risicobeheer te doen leidt tot de Risk Management Pyramid die opgebouwd is uit zeven lagen. De 7 Lines of Defence … en daar is verzekering pas het "laatste redmiddel".
Er zijn verschillende varianten van deze pyramide, maar in elk ervan is verzkering het laatste redmiddel; en dat is ook normaal. Door zich alleen maar te verzekeren grijpt men niet in op de kans dat zich iets voordoet, neemt men geen actie om de impact van een gebeurtenis – de gevolgen dus – te beperken, bouwt men geen middelen om tegen de gebeurtenis in te gaan en voorziet men geen acties om zo snel mogelijk te recupereren.
Men gaat met andere woorden "zitten afwachten" tot er iets gebeurt en daarna nog eens afwachten tot de verzekeraar de leidende hand neemt om de onderneming terug op de rails te trekken.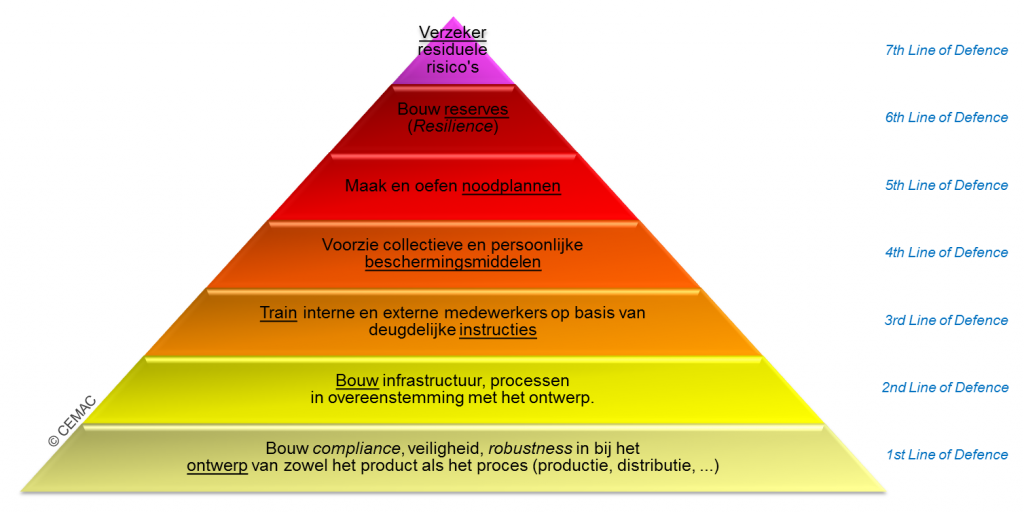 De glastuinbouwer
Zou zich kunnen verzekeren. Bloemen en planten kweken. En ongerust de lucht in kijken als er zich donkere onweerswolken samenpakken boven zijn gemeente.
Als zijn serres dan vernietigd worden door een hagelbui zou hij zijn verzekeraar kunnen bellen en wachten.
of
Hij zou bij de constructie van de serres kunnen nagaan welke bouwmaterialen en technieken schadebeperkend zijn. Hij zou via een app op zijn smartphone permanent de weersinformatie kunnen volgen.
De telefoonnummers van zijn personeel hebben en een beperkte systeem van oproepbaarheid. Hij zou een plannetje gemaakt kunnen hebben om bij dreigend onweer planten te verplaatsen van oude kwetsbare serres naar de nieuwste serres die beschermen tegen hagel. Hij zou een stock kunnen hebben van plastic zeilen om beschadigde delen af te dekken.
En hij zou tenslotte een afspraak kunnen hebben met zijn lokaal verzekeringsagent om sneller toegang te hebben tot een expert die ter plaatse komt, waardoor hij de mogelijkheid krijgt al onmiddellijk puin te ruimen en met spoedherstellingen te beginnen. En natuurlijk een goede verzekering hebben.
Wie doet het best?
Volgende bijdrage
… binnenkort … over meerlagige voorbereiding op noodsituaties, zoals een afschakeling …
Posted on August 18, 2014
Filed Under Uncategorized | Comments Off
[Brussel, Zele] – De stilstand van drie kernreactoren, de beschadiging van een transformator te Monceau-sur-Sambre, en andere technische beperkingen van het Belgische elektriciteitsnet zorgen dat bij stijgend verbruik het zogenaamde "evenwicht" tussen vraag en aanbod niet langer kan gewaarborgd worden. Wellicht zelfs niet met het terug in dienst stellen van elektrische centrales die om economische redenen (ze waren niet meer winstgevend) gewoon zijn stilgelegd.

Alles draait om evenwicht. Hoe meer elektriciteit verbruikt wordt, door ziekenhuizen, bedrijven, gezinnen, openbaar vervoer, hoe meer er moet geproduceerd worden. Het probleem is dat men geen "levertermijn" kan hebben.
De aanpassing van productie aan een stijging van de vraag moet in fracties van seconden gebeuren.
Die "productie" kan op twee manieren:
door effectief electriciteit te maken in een elektriciteitscentrale, met een windmolen, zonnepanelen, …
door elektriciteit die elders gemaakt wordt (in het buiteland) via kabels te transporteren naar de zone waar men elektriciteit nodig heeft (België dus).
Het dubbele probleem van nu …
Vorige winters waarschuwde netbeheerder Elia al dat het mogelijk was dat er stroomtekorten gingen zijn. Toen waren er twee reactoren buiten dienst en kon men op volle capaciteit elektriciteit transporteren vanuit Frankrijk om te gebruiken in België.
Die situatie is recentelijk fundamenteel veranderd:
een derde grote productie-eenheid ligt voor maanden stil;
een belangrijke transformator op de importlijn met Frankrijk is beschadigd, waardoor de invoer van elektriciteit ook beperkt is.
Noodmaatregelen
Bij wet is vastgelegd dat Elia, als netwerkbeheerder, de taak heeft de (elektrische) veiligheid van ons elektriciteitsnet te bewaken en te beheren.
Elia, de nationale TSO (Transmission System Operator), werkt hiervoor samen met:
de DSO's (Distribution System Operators) Eandis, Sibelga, Infrax, Ores, …;
de GENCO's (power Generation Companies) Electrabel, Nuon, Essent, …;
diverse overheden (de regulatoren CREG, VREG, Binnenlandse Zaken, Energie, …).
Dagelijks, uurlijks, worden aanpassingen gedaan in productie en transport van elektriciteit om het elektrisch net in werking te houden, zonder dat de doorsnee gebruiker zich daarvan bewust is.
Dit zijn de daily operations.
Als deze gewone kleine ingrepen onvoldoende zijn, kan de TSO een hele reeks noodmaatregelen nemen, tot en met het buiten dienst stellen van een gedeelte of het geheel van ons nationaal elektriciteitsnet.
Soms kan het inderdaad zelfs noodzakelijk zijn om "alles uit te schakelen" om nog erger te voorkomen.
Want alle nationale elektriciteitsnetwerken zijn onderling verbonden en een zeer ernstig nationaal probleem kan, als er niet goed op gereageerd wordt, overslaan naar het grotere internationale netwerk.
Black-out en Brown-out
Het bewust uitschakelen van een gedeelte van het elektriciteitsnet, het zogenaamde "afschakelen", heeft tot doel het evenwicht tussen productie en verbruik te herstellen indien men de productie niet kan opvoeren.
Men "knipt" dus een stuk verbruik weg.

In sommige gevallen is het verlies van aanbod zo dramatisch en groot dat het afschakelen automatisch gebeurt.
Pylonen van een hoogspanningslijn die omvallen bij een storm, een brand in een transformator, zijn plotse gebeurtenissen die stroomafwaarts leiden tot een stroomuitval van een straat, wijk, gemeente of …
Dit is dan een BLACK Out.
De manier waarop ons elektriciteitsnetwerk is opgebouwd en de schakelingen die men in de controlekamers van TSO en DSO's uitvoert, leiden ertoe dat de schade meestal beperkt blijft … waarna de technische ploegen uitrukken om alles te herstellen.
Soms kan men de problemen voorzien. Zoals nu.
En dan kan men, vooraleer het evenwicht plots verstoord wordt en de gevolgen onoverzienbaar worden, beslissen een stuk verbruik "weg te knippen". Men gaat dus een groot aantal elektriciteitsverbruikers bewust afschakelen, voor eventjes of voor langer, éénmalig of elke dag tijdens een kritieke periode (bv. de winter).
Als zo'n stroom"panne" bewust wordt gecreëerd, spreekt men van een BROWN Out.
Het nationale afschakelplan
De Belgische wetgeving voor de veiligheid van het elektriciteitsnet beschrijft ook de principes van een nationaal afschakelplan.

Dit is een technisch plan waarin beschreven wordt welke geografische gebieden (groepen van gemeentes, gemeentes of delen daarvan) onder welke omstandigheden kunnen afgeschakeld worden om te voorkomen dat het hele Belgische net in mekaar stort en er dus een ongewenste totale nationale BLACK Out ontstaat.

Het afschakelplan is enerzijds een louter technisch plan, omdat het zich moet baseren op wat technisch mogelijk is (waar welke transformatorposten via welke kabels welke straten en gemeentes met elkaar verbinden);
maar is anderzijds ook een bestuurlijk plan omdat het de overheid is die finaal de goedkeuring moet geven voor de voorgestelde prioriteit van afschakeling… (wie eerst, voor hoe lang, etc.).
De bedoeling van die "bestuurlijke beslissing" is er voor te zorgen dat de maatschappelijke schade zo klein mogelijk wordt gehouden: industriële centra zijn dus bijvoorbeeld belangrijker dan landbouwzones.



Licht uit … bij u?!
In de media van vorige week (15-aug) werd herhaaldelijk gemeld dat "de gemeenten niet weten of ze betrokken" zijn… en er dus geen noodplannen zijn of kunnen gemaakt worden…
Dit is een beetje een steriele probleemstelling natuurlijk, want de stroomproblematiek is al enkele jaren gekend én los daarvan kan op elk moment een transformator uitbranden of een hoogspanningslijn na een storm tegen de vlakte gaan.
Maar goed, het is een realiteit.
Vele gemeentes hebben nog niet de ervaring met voorbereiding op grootschalige en langdurige (meerdere uren, zich over meerdere dagen of weken herhalend) stroomonderbrekingen.
We hadden het tot nu toe ook nog niet nodig…
Is het moeilijk?
Noodplanning voor een Brown Out  is technisch gezien niet zo moeilijk, maar vergt een heel multi-disciplinaire aanpak, die de klassieke noodplanning (brandweer, medisch, politie) aanzienlijk overstijgt en waar het zwaartepunt zelfs niet ligt bij de klassieke hulpverlening…
Het zwaartepunt ligt bij het in kaart brengen van de ESSENTIELE centrale gemeentelijke processen en het voorbereiden van acties om die zo veel mogelijk te kunnen blijven doen …
Enkele voorbeelden:
Analyseer hoe gemeentelijke diensten met elkaar kunnen blijven communiceren: de batterijduur van de GSM en TETRA (ARTRID) masten is beperkt. GSM-communicatie kan (zal) dus al vlug onmogelijk worden;
Bekijk de toegankelijkheid van middelen, voertuigen, lokalen, informatie: kunnen de poorten van politie, brandweer, technische dienst geopend worden als er geen elektriciteit is;
Is er noodstroomvoorziening voor het ziekenhuis en werkt deze?
Zijn er noodstroomvoorzieningen voor het ICT netwerk van gemeentehuis en andere kritieke infrastructuur. Zo niet, kunnen dan nog verrichtingen gedaan worden die gebruik van de elektronische identiteitskaart noodzaken? Kunnen nog paspoorten aangevraagd worden, adreswijzigingen gedaan worden …. zo niet, dan is het noodzakelijk openingsuren te wijzigen of afspraken te maken met niet getroffen buurgemeentes.
Functioneert de keuken van het OCMW nog? en zo niet, hoe voorzien we maaltijden in het RVT en hoe doen we de maaltijdvoorziening aan huis? Misschien moeten we dan gaan koken op tijdstippen dat er wel stroom is.
Hoe wordt de politie georganiseerd om om te gaan met het niet werken van alle verkeerslichten? Alarmsystemen in huizen en bedrijven? Het niet meer doorstromen van camerabeelden van vekeerscirculatie omdat het netwerk niet meer functioneert?
Enkele voorbeelden dus, om aan te geven, dat het niet gaat over brandweerwagens en zandzakken, maar over logistiek, koelcellen, identiteitskaarten, GSM's en een heleboel andere "praktische probleempjes".
De belangrijkste problematiek zit evenwel in de veelal ongekende "interdependencies": welke systemen hangen af van elektriciteit en creëren op hun beurt maatschappelijke problemen?
treinen hebben stroom, maar lokale overwegen niet;
bacteriën in waterzuiveringsinstallaties sterven na enkele uren, waardoor waterzuivering voor weken stil ligt;
bediening op afstand van bruggen is niet meer mogelijk, omdat de camerabeelden niet doorgestuurd worden;
…
Internationaal wordt onderzoek gedaan naar de mogelijke interdependenties, maar ervaring van stroompannes in het buitenland leert ons veelal dat het identificeren van wat met wat verbonden is en tot wat leidt veelal een heel onvoorspelbare materie is.
Hulp nodig?
CEMAC werkt sinds 2006 voor de belangrijkste spelers binnen de Belgische elektriciteitssector: ontwikkeling van noodplannen, opleidingen, oefeningen.
Daardoor hebben we ook een grote expertise opgebouwd op het vlak van toepasselijk regelgevend kader, afschakelplan, noodmaatregelen, impact-analyse, noodplanning en dergelijke meer.
Zo beschikken we onder meer over een kern van Checklists die door lokale overheden kunnen gebruikt worden voor een impact-analyse of als leidraad bij het opstellen van nieuwe modules voor hun gemeentelijk noodplan.
Daarnaast hebben we "modules" – eigenlijk deelplannen die in het gemeentelijk noodplan kunnen ingevoegd worden – om de specifieke problematiek van Business Continuity aan te pakken.
*[ Onze kantoren zijn gesloten tot 24 augustus]*
*[ maar we blijven bereikbaar via e-mail. ]*

Posted on July 29, 2014
Filed Under Newsbase, Uncategorized | Comments Off
[Zele] – Just before 09:00hr we received a telephone call from the operational crisis management centre of Fluxys, the Belgian natural gas pipeline operator.
Around 09:00 an explosion had occurred of a gas cloud that had escaped from a rupture in a DN1000 80bar gas pipeline on the industrial estate in the village of Ghislenghien, close to the city of Ath.

The pipeline transported up to 1.6 million cubic metres of natural gas between the terminal at Zeebrugge harbour and France. The pipeline operator performed an emergency closure of the mainline valves, but given the distance of more than 10 kilometres between the upstream and downstream valves, the jet fire of the "line pack" lasted for almost 2 hours (line pack: the total volume of gas in the pipeline in between two valves).
The explosion left 24 people dead and injured 132 people. Debris was projected up to 6km from the epicentre of the explosion.
Expert analysis showed that the leak occurred as consequence of "external aggression", i.e. the scratching of the pipe wall by a mechanical excavator, with a wall thickness of 4mm instead of the nominal 10mm.
CEMAC and Fluxys
Starting in 2002 CEMAC was selected to organise Fluxys' crisis management exercises. Over the years a number of Command Post Exercises (CPX), Field Training Exercises (FTX), Table Top Exercises (TTX) and mixed exercises (MCX) had been organised.
On 30 and 31 July, CEMAC assisted Fluxys in the co-ordination between the pipeline operator, the local emergency services and the national civil protection authorities.
In the following weeks, communication experts from CEMAC performed media studies to analyse the coverage of the catastrophe by the media, and more specifically the attributed role and responsibilities of the pipeline operator.
The Aftermath of the Accident
The analysis of the incident and the response to it lead to a number of new initiatives by all relevant national partners:
The consultation process between pipeline operators, united in FETRAPI, and construction companies for private and public works was optimised
The Ministry of the Interior and the Fire Brigade Associations developed "Action Card" for pipeline incidents
The National Crisis Centre (CGCCR) developed a national digital cartography (GIS layer) with all relevant pipeline information
The pipeline industry developed the KLIP/KLIM database, which is a national database with pipeline information
CEMAC developed for the Ministry of the Interior the "Emergency Planning Guide for Pipelines"
Fire Brigades focused more on the risks of gas leak responses and organised local exercises
Research was conducted in several domains: accidentology, PTSD Predictors and Risks in Children, …
See also:
Posted on May 8, 2014
Filed Under Uncategorized | Comments Off
[Brussels, BE] – Unknown to many, yet very valuable. NATO's Civil Protection Group (CPG) has published in the second half of 2013 the brochure "The International CBRN Training Curriculum", a set of standards and guidelines that define the minimum level of competence and training for first responders to CBRN (= HAZMAT) incidents.
Whilst the document contains – as it states on the cover page – only Minimum Standards and Non-Binding Guidelines, the principles, curriculum and objectives are universal and should be or become a source of inspiration for national authorities seeking to standardise or upgrade their national CBRN incident responder training programmes (Fire Fighters, Civil Protection staff, Military, Private Sector / Industry) or to develop CBRN incident response modules made ready for international deployment.
The brochure is structured along 10 "Learning Outcomes":
Understand the security context behind national and international CBRN preparedness and response
Understand the methods employed to recognise a CBRN incident
Understand protection of responders and safety of victims
Understand the decontamination options at a CBRN incident
Understand basic medical and psychological considerations…
Understand the basic principles of detection and sampling taking
Understand the principles of command and control…
Understand the implications of bilateral or international assistance…
…operational implications between civil-military interaction
Understand the capabilities and limitations of local crisis and consequence management structures…
The brochure is a publication of:
NATO International Staff, Civil-Military Planning & Support, Operations Division
and
NATO International Staff, EADRCC, Operations Division
publication code: 0945-13

Available in CEMAC Documentation Centre



Lexicon:
CBRN: Chemical, Biological, Radiological, Nuclear
CPG: Civil Protection Group
EADRCC: Euro-Atlantic Disaster Response Co-ordination Centre
NATO: North Atlantic Treaty Organisation
CEMAC actively contributes to the projects of NATO's Civil Protection Group.
Luc Rombout has been working for two years in the "Ad Hoc Working Group on the Liability of Relief Personnel" (more on this on the blog very soon) and is member of the Governance Committee in the "Multi-National Telemedicine for Emergency Situations" project.
Posted on February 18, 2014
Filed Under Uncategorized | Comments Off
[Brussels, BE] – The 13 & 14 February Kick-off Conference marked the start of a new and challenging R&D project in which we are involved.
Three nations: Romania, Russia and the United States of America co-chair the "Development of a Multi-national Telemedicine System" (MnTS) project embedded in the NATO-Russia Council and financially supported by the NATO Science for Peace and Security Programme.
The three year project aims at developing operational systems and both technical and operational standards on the use of telemedicine (TMED) for use during major emergencies required international collaboration for the medical operations (MEDOPS).
Luc ROMBOUT from CEMAC is one of very few national experts not belonging to one of the three primary partner counties, invited to bring his expertise to the project. He is member of the Governance Committee, one of the three committees in this project (the others being the Medical Committee and the ICT Committee).
The main tasks of the Governance Committee are the development of the Concept of Operations (CONOPS), the development of functional characteristics and further down in the project the development and assessment of a TMED exercise.
Additional information on the project will soon appear on the website of the NATO Science Programma www.nato.int/science
Posted on December 5, 2013
Filed Under Uncategorized | Comments Off
The warnings that the autumn storm Xaver might bring havoc to the lower countries brings back memories of the 2008 Coastal Flood Exercise "COFLEX" organised by CEMAC.
This exercise was made possible with European INTERREG funding and involved a scenario in which the provinces of West-Vlaanderen (Belgium) and Zeeland (the Netherlands) joined efforts to manage the consequences of a coastal flood along Belgian and Dutch coastal weak spots.
The scenario was based on mathematical flood models of the 1/1000 year storm with high Northern winds, extreme high tides and storm conditions.
A provincial crisis team from West-Vlaanderen was assembled in the Maritime Rescue Co-ordination Centre (MRCC) to cope with threats and challenges on the Belgian side, whilst the provincial crisis team from Zeeland worked from the provincial crisis centre in Middelburg.
The exercise had a duration of two days and involved three stages of flood risk management (before the flood) and of flood consequence management (after the flood).
I. Initial stage (before the flood)
Participants were confronted with very adverse weather forecasts in the 48 / 24hr before the storm hitting shoreline time frame and were asked to assess the situation and if considered relevant, to develop a plan of preparations for actions if the situation would really turn bad.
II. Impact stage (storm coming ashore)
In a real time simulation of terrain events, information flows, media coverage, the two provincial crisis teams received injects over a period of five hours of the actual damage by the storm hitting the infrastructure, destroying coastal defences and the subsequent flood of several municipalities on the Belgian and Dutch coast. The teams were confronted with evacuation requests, impact on utilities and infrastructure, SAR, Recce and damage assessment, casualty care and communications about fatalities, international logistics, and numerous other aspects of this multi-faceted emergency management.
III. Consequence management stage (24hr after the flood)
With parts of the region still flooded and receding water at other places, the focus of emergency management had to shift towards the organisation of longer term shelter for evacuees, aerial delivery of supplies to people stuck in buildings and the complex recovery effort in zones where the water had receded.
Not only an exercise, also an EMERGENCY PLAN
The exercise was also a test for the Pilot "Bi-national Coastal Flood Emergency Plan" developed by CEMAC as part of the same European Project "Chain of Safety" and delivered to the authorities of Belgium, Denmark, Germany, the Netherlands and the United Kingdom.
This emergency plan was developed by a team of experts from CEMAC and validated through a team of experts from all of the participating nations.
The "pilot version" covered the specific requirements, processes and procedures to facilitate Belgian-Dutch collaboration and co-ordination in case of coastal floods.
Posted on November 14, 2013
Filed Under Uncategorized | Comments Off
An editorial post by Luc Rombout, Global Director of Communications of IAEM (International Association of Emergency Managers) and senior consultant at CEMAC.
We do not care …
Emergency managers do not really care that much about the "probability" of events and the actual underlying causes.
We do not focus on whether the typhoon that hit the Philippines last week is caused by structural climate change, which in turn could be men's fault or is merely an unrelated meteorological anomaly.
For emergency managers the probability is always "1".
And that probability = "1″ is always considered both in the preparatory phase (when you make an emergency plan and prepare an organisation or society) as well as in the response phase.
"THE thing" has happened, whatever the cause. It is time to manage the consequences in the most effective and efficient manner, with the least loss of life, damage to property and the environment.
As such, emergency managers should not be the people who make statements about the relevance, truth and impact of climate change. We are not there to add to that body of knowledge on causality of crises, because our core competences are not there.
We should not make statements about that, because they will only stir discussions about the relevance and truth of things.
The essential element being that we avoid entering the playing ground of semi-political agendae that ultimately disrupt the inherent neutrality of Disaster Relief Operations (DRO), Emergency Management (EM) or whatever one wishes to call it.
DRO is a neutral humanitarian activity – or at least it is supposed to be that.
THE thing has happened, a natural disaster.
Once more, and it will not be the last time.
We do care …
The modern day emergency manager should have a holistic view on risks and how to manage them. Times where you just sit and wait for the next emergency call to arrive after which you deploy are things of the past.
Risks are inherent to our presence as humans on this planet Earth. Some are 'acts of nature' (like falling meteorites, infectious diseases and tropical storms), while others are 'acts of man' (like transportation accidents, industrial accidents, terrorism).
Modern day risk management for the emergency manager means that he is involved in the development of major scenario lines, the development of an adequate emergency plan, the sourcing of sufficient logistics to make the plan operable, the training of the people required to implement the plan and the organisation of exercises.
But the main issue with "catastrophic events" like tsunamis, typhoons, earthquake or a pandemic, is that the mere scale and response complexity is such that it is not that easy to make THE emergency plan for such an event or to just go out and organise an exercise.
So there is a problem of methodological approach.
In addition, crises like what has happened in the Philippines are such in nature that the fundamental fabric of society, the operational cohesion through the existence of communication lines, hospitals, access to drinking water, fuels, other utilities and shelter, has dissolved.
Emergency responders can no longer arrive by air or land and "plug in" their telecom systems and refuel their 4×4 vehicles – because all the network components have just disappeared.
So there is a basic problem of societal disintegration.
Operational Complexity and Burden Sharing
The observation that in the Philippines, like in Haiti and after several other disasters, the scale of needs and international solidarity are thus that one sees the arrival of dozens of domestic and international disaster relief organisations and emergency responders, without any "scenario" to operate by and without the relative luxury of infrastructure remained intact or at least operational makes DRO in these cases operationally very complicated.
Who is in overall command?
How do you communicate and coordinate?
Who assigns priorities?
What about languages?
Who arranges transport and logistics across relief operations?
…
…
or how about common – or at least non-conflicting – crisis communications?
Building a domestic permanent and integrated emergency response capability for such crises is inconceivable.
The Philippines cannot do that, the United States of America cannot, Belgium cannot.
Thus emergency response (e.g. Urban Search & Rescue, Medical Operations) and disaster relief (e.g. sheltering of people, supply of food, re-establishment of basic medical care) require and are based upon rapid integrated international response under a clear command with effective and efficient implementation of the operational priorities throughout the entire stricken zone.
Citizens who have lost everything and who have no food, no shelter and no medical care cannot wait for days – whatever the conditions on the ground.
New Operational Models
The current crisis clearly illustrates once more the need for co-ordinated speed-as-lighting large scale emergency response and disaster relief capabilities.
Traditionally we view this as the in situ deployment of rescue personnel, medical staff, damage assessors and other first-responders, but there is much more … and it should be developed much more, because many of these initiatives can be boosted with limited funding and without some of the barriers linked with a physical deployment of personnel (border crossing, transportation, visa, diploma recognition, subordination of command, …).
One such initiative, but there are many, is the "Digital Humanitarian Network", a consortium of Volunteer and Technical Communities (V&TC) as they call themselves … or in simple words: a virtual network of organisations and individuals who bring their expertise and time to perform support operations that can be done "from a distance".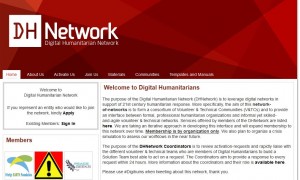 One of the member organisations is the Standby Volunteer Task Force focusing on the exploitation of geo-spacial information, monitoring of traditional and social media, social media data verification, periodical synoptic reporting, …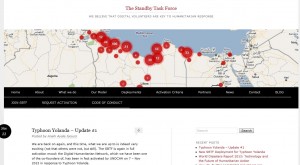 They are mere illustrations of a positive evolution whereby we "pull resources" even if they are not embedded in the traditional governmental / institutional organisations (UN, EU, NATO, individual nations, …) or not a traditional DRO NGO (Médecins sans frontières, ICRC/IFRC, …).
"As a member of the Global Board of the International Association of Emergency Managers, I regularly come into contact with sometimes unique expertise, but lacking any framework that will support them if they wish to make their expertise available at the moment when it counts".
That expertise is very diverse and can prove very valuable for responders who are sometimes in great need for information, advice, knowledge.
Experts in utility systems restoration, experts in command & control set-up, construction engineers with expertise in damage assessment, pollution management experts, transport logisticians, trauma psychologists, crisis communications experts, … I even met a specialist veterinarian who specialised in animal cadaver management after floods …
Virtual communities do not replace the "boots on the ground" emergency response, but they can provide a very valuable support by:
adding absent expertise
having the time and resources to do a thorough exploitation of sensor data
creating a strategic overview of the situation as a whole
…
Moving forward
The occurrence of "off scale" emergency situations stresses the need to take action to maximise in the future the global response capability, from whatever source or part of the world, as long as it is humanitarian-neutral and of good quality.
But there are some issues … and as a body of professionals, the emergency management community should be conscious of those and try to find solutions for the remaining problems.
Let us name a few:
absence of a universal command structure (each team continues to operate a bit under Host Nation command and a bit under its own national command)
absence of universal operational processes (apart from processes in specific domains, like USAR)
absence of an integrated standing doctrine for logistical support
issues with border crossing, recognition of diplomas (can a Belgian doctor practice his profession all over the world?)
liability of deployed relief staff (e.g. what happens if a person dies through an accident caused by a foreign emergency responder?)
non-use of hundreds, perhaps thousands of experts who are not national expert or not embedded in a traditional DRO NGO
lack of legal clarity regarding the responsibility and liability of the newly emerging V&TC's
difficulty of deploying military assets (the 'means of last resort') because of "political unease"
…
Some useful information
Pulling a human being from a collapsed building is a universal process.
It is done the same way irrespective of race, country of origin or organisation the emergency responders belong to.


Administering first aid is a universal process.
It is done the same way irrespective of race, country of origin or organisation the doctor or paramedic belong to.


As such, our profession must pull the knowledge from where it is and aim for maximum adoption by the emergency response community and by national and supra-national entities.
And in that respect I would like to bring into the spotlight, four initiatives:
The OSLO Guidelines: Guidelines on the Use of Foreign Military and Civil Defence Assets in Disaster Relief (UN-OCHA)

The BUDAPEST Guidelines II: on Crisis Communications (NATO EADRCC)

EU Host Nation Support Guidelines (EU DG-ECHO / ERC)

Technical Arrangement on the Liability of Relief Personnel [in international Disaster Relief Operations] (NATO CPG Ad Hoc Working Group(*))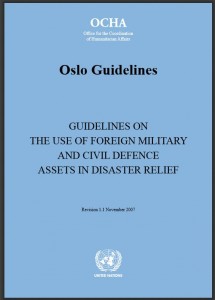 (*) Luc Rombout is member of this international ad hoc working group tasked with the development of a Handbook and Model Clauses to resolve potential liability issues between Sending Nation and Host Nations during international disaster relief operations (such as the deployments to the Philippines).

The Belgian minister of Foreign Affairs, mr. Didier REYNDERS launched an appeal today to uplift initiatives like the Belgian B-FAST team (info in Dutch) to the European level.
"Great … and I certainly support the idea, but he should be (even) more ambitious!"

Entities such as B-FAST deliver vital on-scene operational and technical support with USAR (Urban Search & Rescue), (para)medic and logistical staff.
But the holistic approach must be to identify:
ALL the needs and required competences (C2, information management, EVAC & Tpt experts, strategy analists, CCOMM specialists, geospacial planners, …) – so think broader than B-FAST alone – and to promote fora and formulae for international co-operation, irrespective of where you can find the expertise or whether it involves commercial, civilian or military assets.

the main existing 'barriers' that limit the fast mobilisation and deployment of response assets (border-crossing into countries that do not apply the Oslo Guidelines, liability and certification issues, standardisation of information flows, …)

Disaster response is a "universal" enterprise, remember …











keep looking »