Posted on May 27, 2015
Filed Under Newswire | Comments Off on Euronews Debate on Crisis Management in Europe
[Brussels, Zele] – Luc Rombout was invited to debate with dr. Jamie SHEA, Head of NATO's Emerging Security Challenges section and mrs. Helena LINDBERG, Director General of the MSB, Sweden's Civil Contingencies Agency
on the topic of challenges for national and international emergency response should a large scale terrorism attack occur.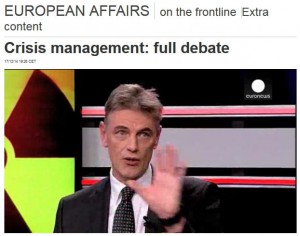 The debate aired on Euronews and is also available for online viewing on their website.
The debate focused on risk assessment, national capacity and the need and processes to bring in outside support.
Comments