Posted on May 27, 2015
Filed Under Uncategorized | Comments Off on 2015 Symposium "Rampenmanagement" – 19 June 2015
[Jabbeke, BE] – ICM West-Vlaanderen organises in collaboration with the Ministry of the Interior and the Ministry of Public Health from Belgium a new edition of the "Symposium Rampenmanagement", with this year as central theme 'Learning from Disasters: Analysing Emergency Response to Disasters'.
The symposium will be held on Friday 19 June 2015 in Jabbeke.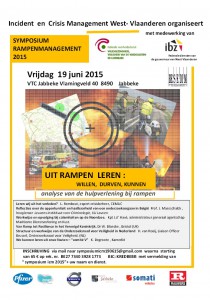 The symposium has speakers from:
KULeuven (University of Leuven)
Agentschap Maritieme Dienstverlening en Kust (Maritime Authorities)
NHS (National Health Service)
Onderzoeksraad voor Veiligheid (Dutch Safety Investigation Board)
Belgische Kamer (Belgian Parliament) …
and CEMAC.
Click on the folder image to enlarge to find out the details to register.
De presentatie van Luc Rombout over "Leren" kan gedownload worden door op de link [CEMAC_SymposiumLeren_19jun2015_DUT_Rev00] te klikken.

Gelieve bij verwijzingen of gebruik van delen van de presentatie steeds een bronverwijzing aan te brengen.
Comments