Posted on September 30, 2015
Filed Under Newswire | Comments Off on COBRA as COP/SA tool in international EXER
[Belgium, Ukraine] – The COBRA EMSS (Emergency Management Support System) was used 20-24 September as the multi-national / multi-agency Common Operational Picture (COP) – Situational Awareness (SA) tool during an international disaster response exercise with focus on channelling information related to the medical operations.
The key component of the EXER was the deployment of advanced medical posts with T-MED (telemedicine) infrastructure providing uplink real time information about casualty medical conditions to remotely based medical experts. The aim of this was to be able to 'project' medical capability into a disaster area without the actual move of manpower (medical A&E, traumatology, … specialists) and to support local medical responders at various echelons with remote diagnostics and treatment supervision.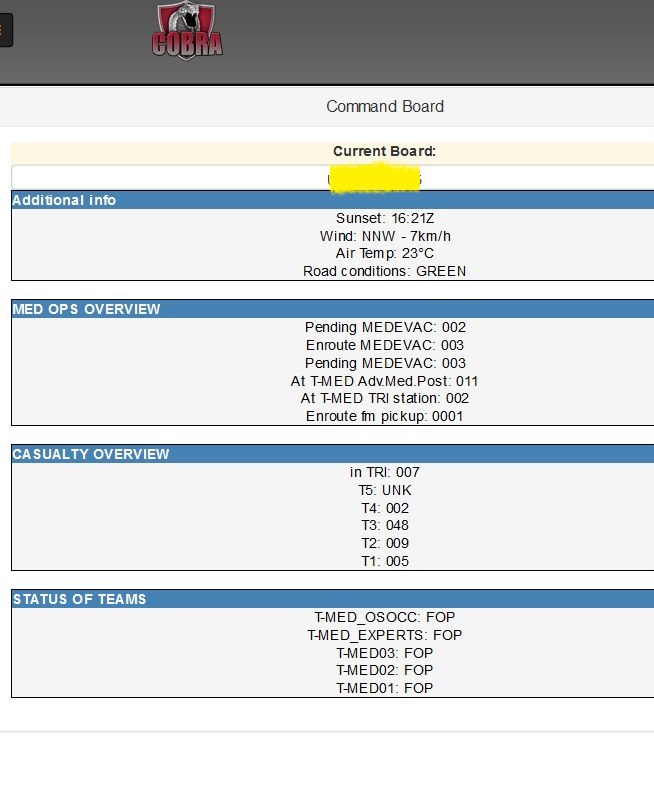 The involvement of COBRA was aimed at providing the OSOCC (On-Scene Operational Co-ordination Centre), various EOC's, logistics managers and other with a COP in the form of shared cartography, log books, tracking of assets, management of information, resource requests and synoptic reporting.
As such user positions were created for the various components in the overall and medical ICS (Incident Command System), based on the actual net-centric concept of organisation that had been put in place.
With the standard software components and the activation of the HICS (Hospital ICS, specifically for medical operations), COBRA succeeded in providing an easily accessible, flexible, zero-setup-time robust environment for information sharing.
The results of the test will be presented during an international conference in January 2016.
(COBRA is a secure EMSS developed by DGI (US) in a strategic partnership with CEMAC (BE).
more information can be found at: www.cobra2020.net – on twitter: @cobra2020net)
Comments